Which Is Better? Buy Now Pay Later or Hardware Subscription Service
Are you kickstarting your new business venture? Well, congratulations! Naturally, you are excited to get things rolling. And one of the first items on your agenda is undoubtedly the procurement of the IT equipment you need for your business operation.
However, many startups often have limited capital. As such, you might be looking to keep your costs low. Even though the hardware is a necessity, you will still want to secure affordable laptops for you and your employees.
Fortunately, there are numerous options available on the market for those looking to minimise their capital expenditure. Two of the most popular options are Buy Now, Pay Later (BNPL) schemes and hardware subscription services. But which is better suited for your business? Let us find out!
What is Buy Now, Pay Later?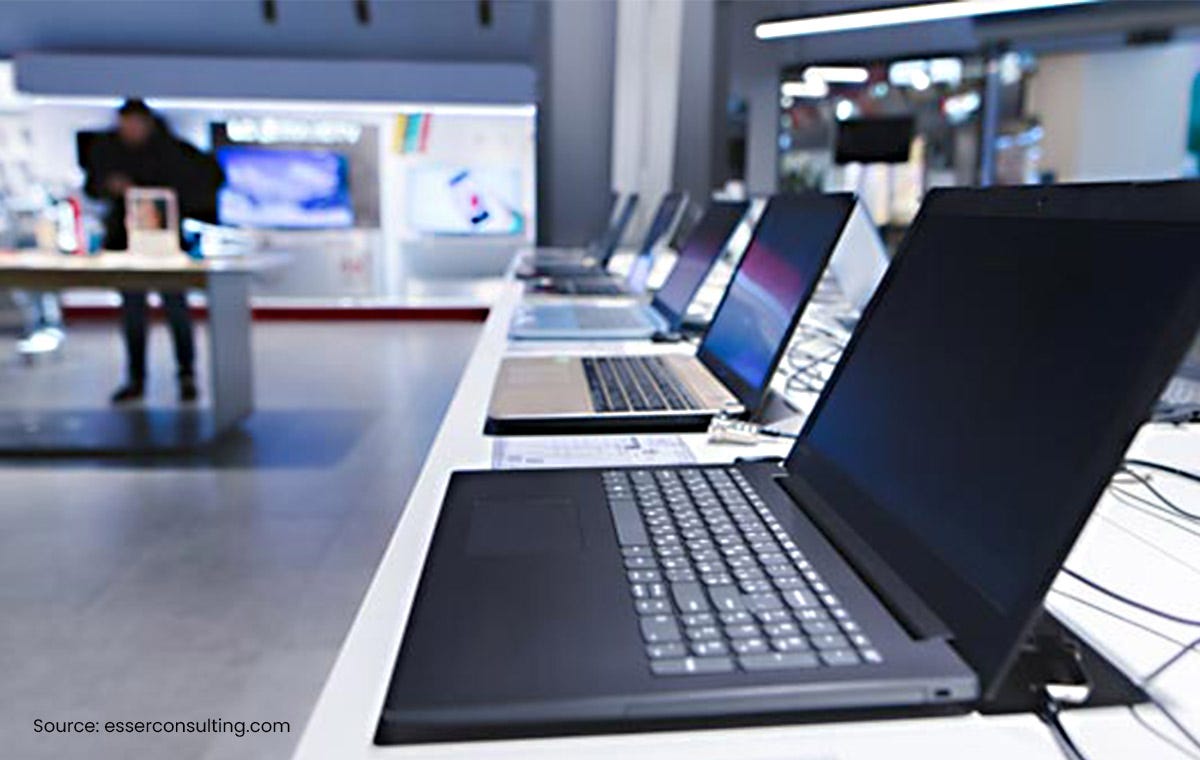 Source: https://esserconsulting.com/tariffs-could-raise-cost-of-laptops-tablets-cell-phones/
The BNPL scheme may be a relatively new payment method, but it is quickly gaining traction as a popular scheme with the rise of e-commerce. It allows consumers to spread the costs of their purchases over short instalment periods without any additional charges within a specific period.
You may be wondering, "This sounds like an Instalment Payment Plan (IPP)". Well, it certainly does seem similar to the payment plans for your credit card. However, the difference is that IPPs are generally used for big-ticket items like furniture, travel packages, and electrical appliances.
Conversely, a BNPL scheme does not require a credit card. And you can use it for cheaper purchases like your shoes or bags – if the brand offers such a payment scheme – and expensive items like a laptop.
So given its low barriers to entry and convenience, the BNPL scheme may appear ideal for startups. However, this payment model also has its drawbacks. Let us take a look at the pros and cons of this payment method so that you have an idea of whether it is suitable for you.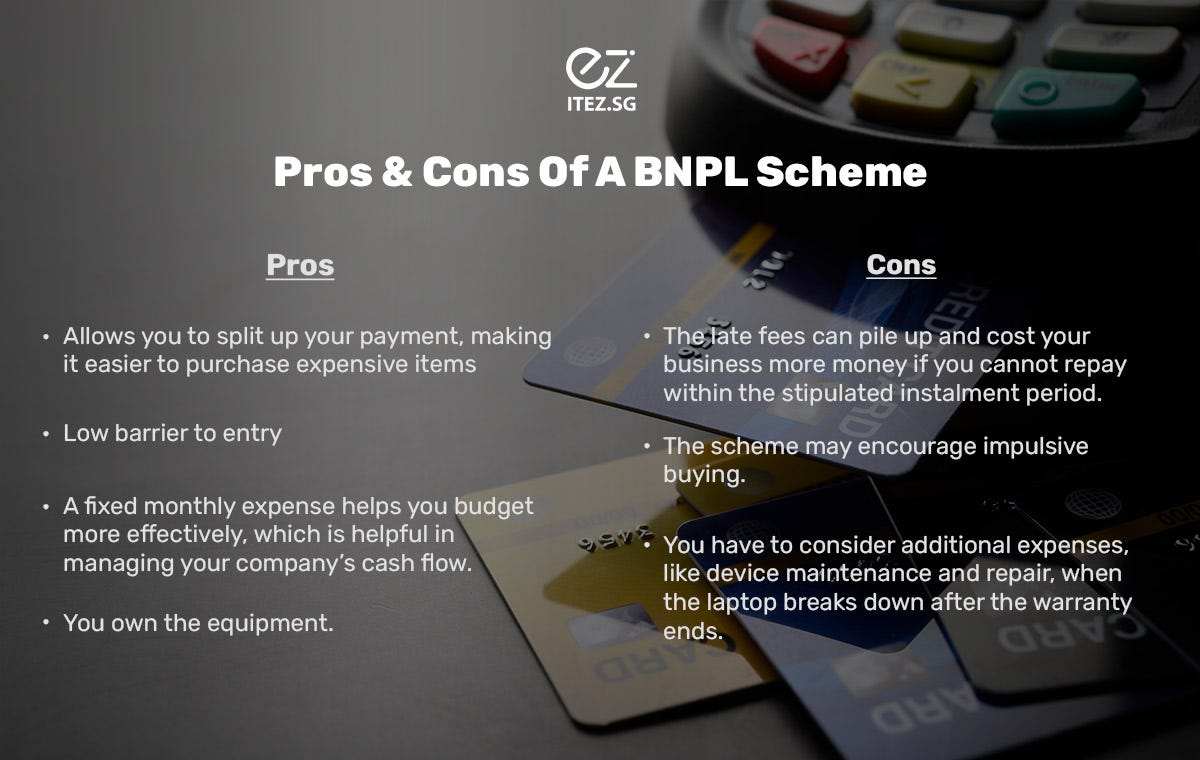 What is a hardware subscription service model?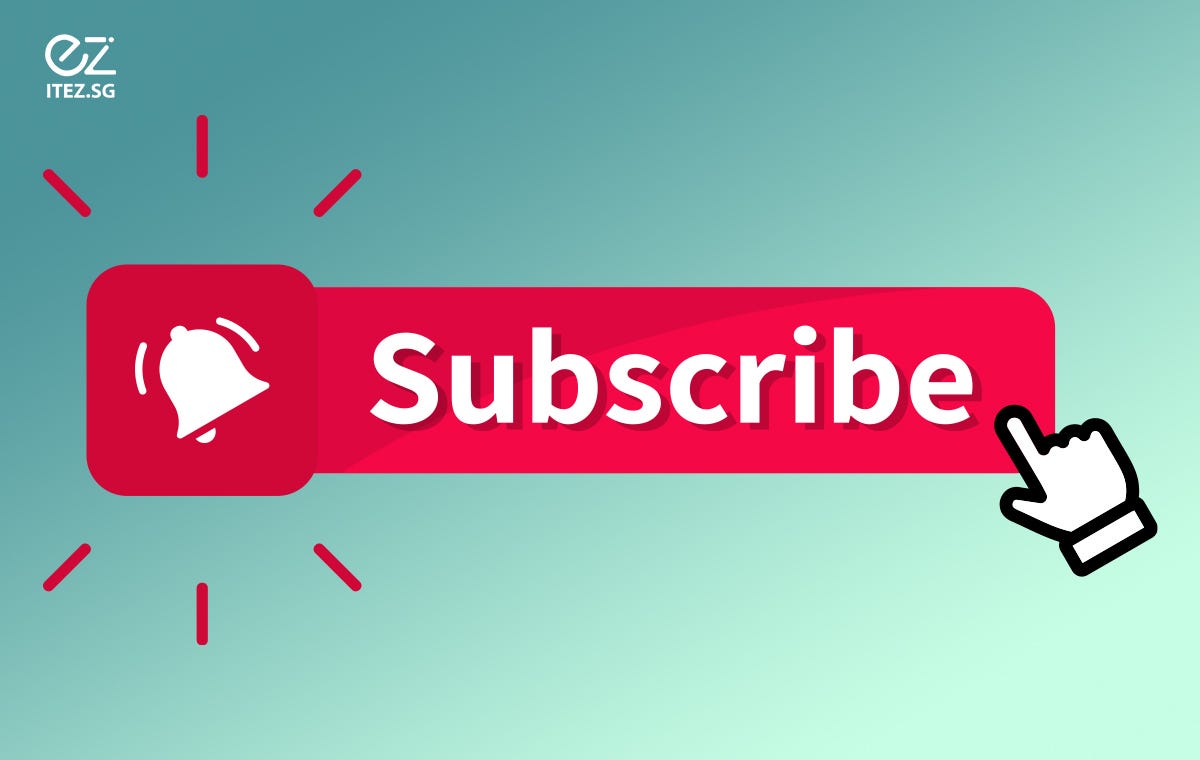 When someone mentions the words "subscription service", your mind may wander to services like Netflix, Amazon Prime, and Spotify. Well, a hardware subscription service model is similar to this concept. You pay a fixed cost monthly to access a service, which, in this case, is a piece of hardware.
There is various equipment available to subscribe to, from portable gadgets like smartphones and tablets to larger equipment like personal computers and data servers. And one of the many benefits of getting a hardware subscription is the affordable price plan. The cost of subscribing to a hardware subscription service is generally lower than the monthly instalment plans for most BNPL schemes.
So should you tap on this flexible model? Well, the answer depends on numerous factors, such as your business needs. Let us examine the pros and cons of the subscription model to paint a clearer picture of whether it is ideal for your company.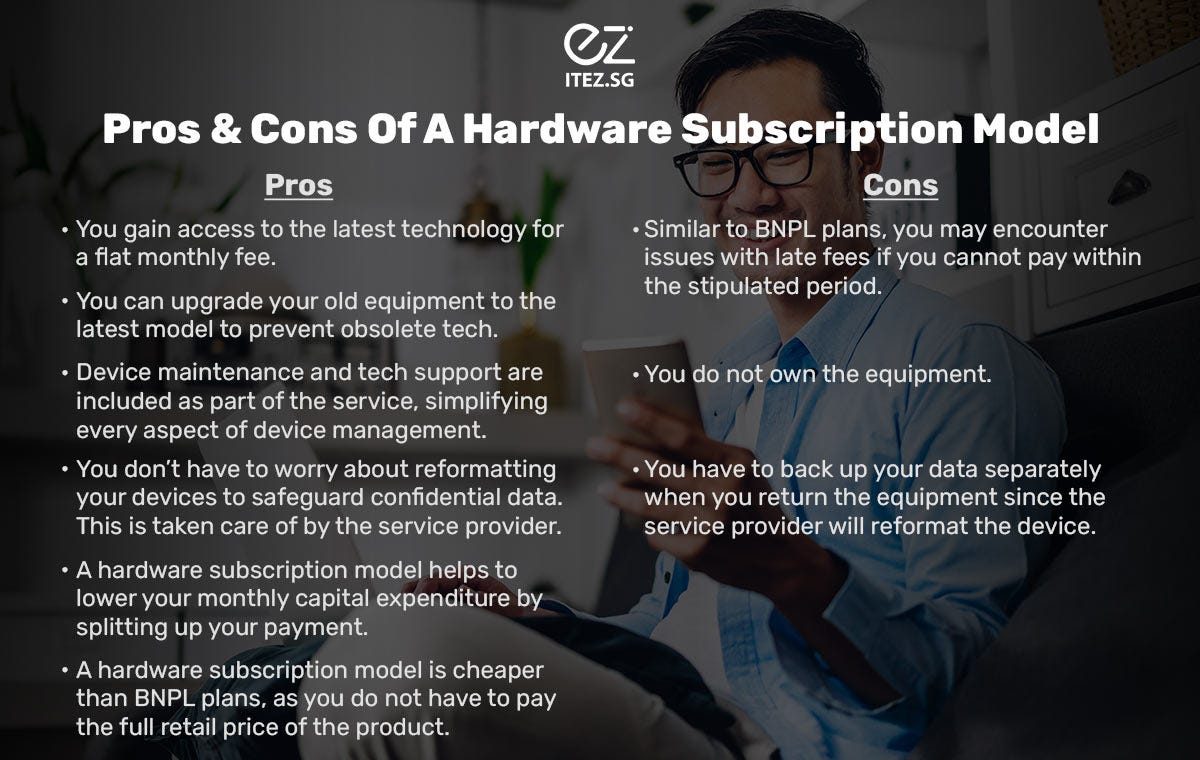 So which payment model is the ideal choice for those looking for affordable laptops? At the end of the day, it comes down to your needs and preferences. We hope what we have shared has given you a better idea of which is more suitable for your business. If you have decided to adopt a hardware subscription model for your company or would like to find out more about the service, do not hesitate to contact us to learn more or simply hit the live chat button!
Oh, and don't forget to follow our LinkedIn page for updates!