A Comprehensive Guide To Device-As-A-Service
Posted:
February 22, 2023
PART 1 – INTRODUCTION
Whether you run a startup or a conglomerate in Singapore, it is likely that you require an extensive array of computer devices spread across your various departments – each with its own hardware and software options. However, staying on top of every piece of equipment can be a real headache, and you can probably expect to invest significant time and money to manage all these devices.
Fortunately, there is a time and cost-saving solution to your challenges – Device as a Service (DaaS). This new model for the company-wide management of devices could be just what your business requires. But how do you know if this service is suitable for you? Check out our comprehensive guide to DaaS to have a better idea of the answer to this question.
PART 2 – EVERYTHING YOU NEED TO KNOW ABOUT DEVICE-AS-A-SERVICE
2.1. What Is Device As A Service (DaaS)?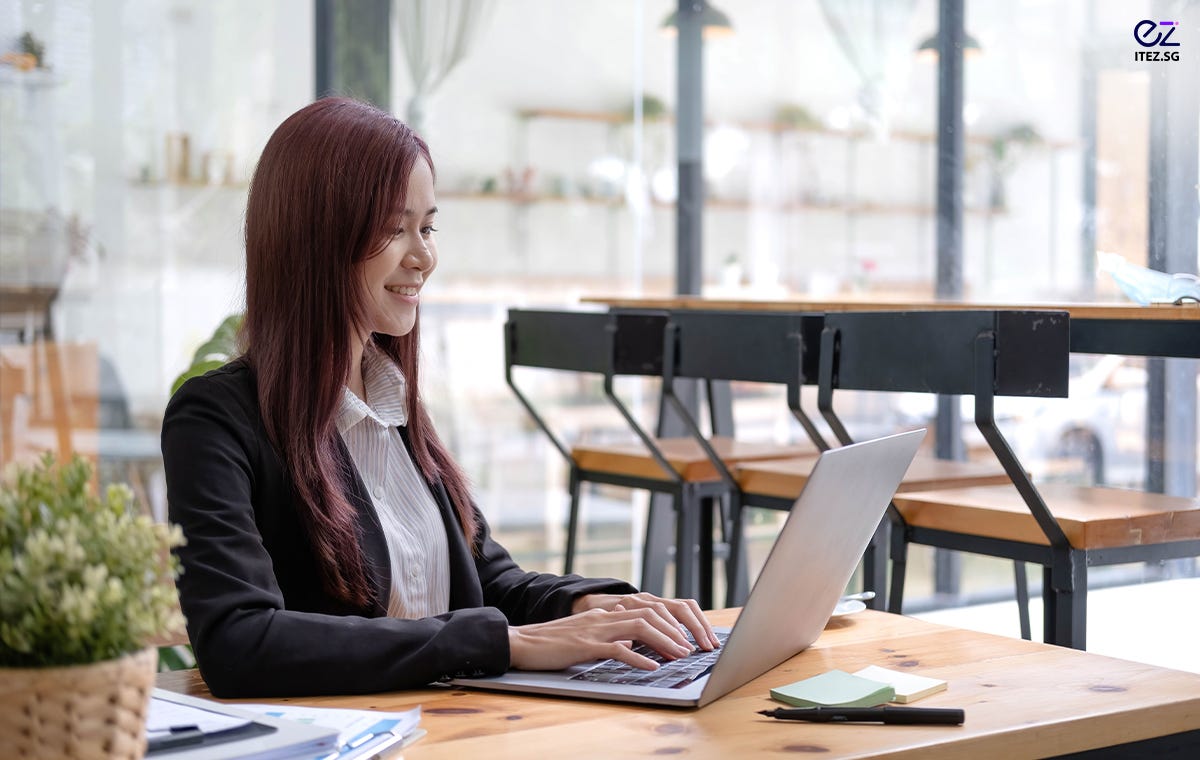 Naturally, the first question on your mind is likely, "What is Device as a Service"?. After all, you must understand what the service is about before knowing if it is suitable for your organisation. Well, DaaS is a modern-day device management model that bundles the leasing of hardware devices like laptops, tablets, smartphones, and accessories together with life-cycle servicing, run-up, and deployment into a single monthly contract.
In summary, think of it as Netflix, but for digital devices. Now, you may be thinking: this sounds similar to hardware leasing, but it is not. With traditional hardware leasing, the devices are managed in-house by your IT team. Conversely, when you subscribe to a DaaS model, your devices are maintained by the service provider.
So you can see why the latter is such an attractive business model, as it does away with the challenges of buying, setting up, and managing digital devices for your business. By outsourcing these tasks, you are also freeing your IT team to focus on core technology projects that can help grow your business.
2.2. Benefits Of DaaS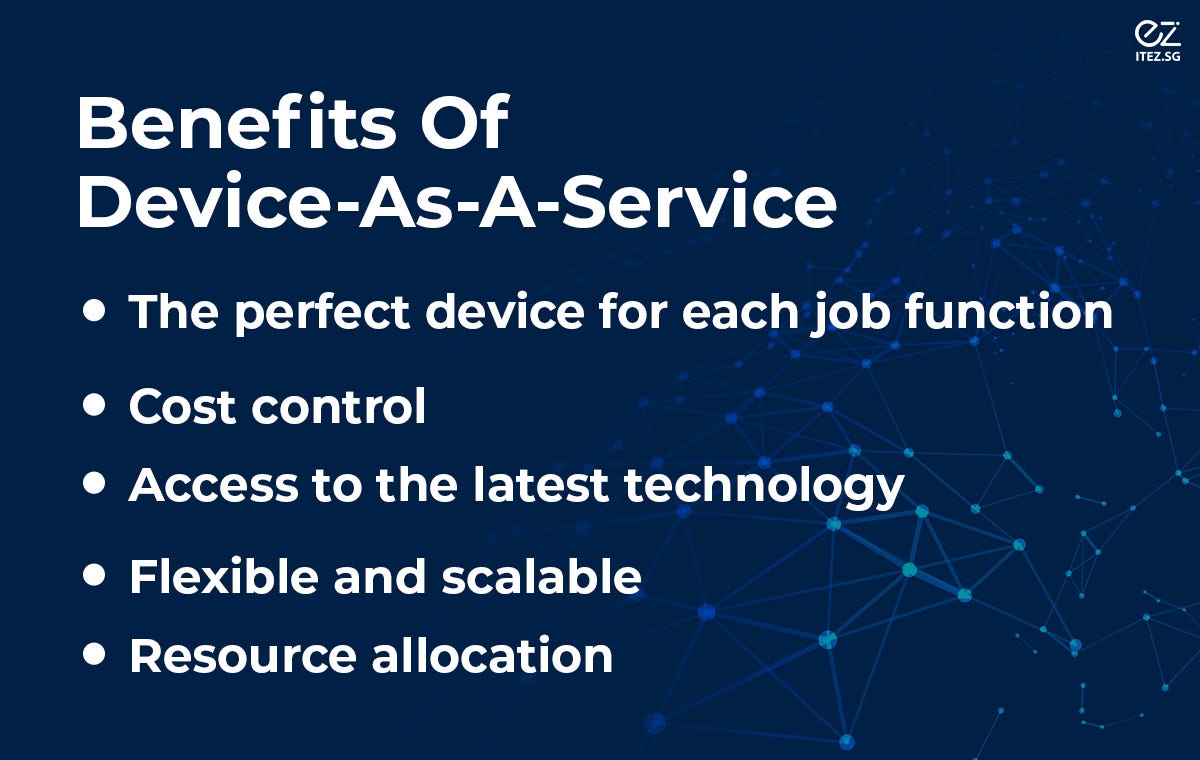 The most important consideration for any company is its bottom line. Is it time to upgrade the company's laptops? Perhaps when there is sufficient capital. Such thinking has compromised many businesses' productivity levels. DaaS offers immediate access to better-performing and affordable laptops, empowering employees to be their most productive by providing them with the ideal devices for their needs.
The way DaaS functions is relatively straightforward from a consumer's perspective. You subscribe to a service provider (like ITEZ.SG), and they manage all your devices through every stage of their lifecycle – from provision and deployment to maintenance. However, what makes this hardware subscription model so transformational for businesses at scale? Read on to find out.
Benefit #1: The perfect device for each job function
Different roles require different technology. For example, a field sales team may seek portability and longer battery life in their laptops since they are constantly meeting clients outside the office. Meanwhile, a graphic designer may require a device with high specs and performance to run a specific design software.
However, unless you are someone who keeps track of all the latest developments in device technology and connectivity, you will be hard-pressed to provide the ideal laptop that best fits each user. In such situations, you may find yourself incurring additional expenses to buy upgraded hardware or risk being stuck with obsolete or incompatible technology.
The best part of DaaS is not the device but the services associated with it. If you are unsure which hardware is most suitable for your business needs, you can ask the experts. Put forth your requirements to the service provider, and they can advise you on the best devices that fit your budget and needs.
Benefit #2: Cost control
Procuring and managing a fleet of devices is expensive. And that is to say nothing of the cost of hiring and maintaining an IT team to ensure everyone in your organisation has the technology they need when they need it. Conversely, with a hardware subscription, you only pay for exactly what you need, when you need it, via a fixed monthly fee.
With the deployment and maintenance of the hardware outsourced to the service provider, you can save on the financial overhead for your business. Additionally, the transparent and consistent subscription pricing eliminates the need to pay the hefty upfront costs typically associated with procuring new devices.
Benefit #3: Access to the latest technology
The devices used at work can have a direct impact on productivity levels. Imagine using laptops with outdated software; you are leaving your business vulnerable to potential cybersecurity threats, which can cripple your system and grind things to a halt. And let's not forget poor device performance hampering business operations.
When you engage the services of a DaaS provider, you are provided with the latest technology compatible with the most up-to-date cybersecurity software, neutralising potential cybersecurity issues and ensuring your devices are always up and running. Employees can also maintain maximum work efficiency without worrying about poor device performance.
Benefit #4: Flexible and scalable
The DaaS model provides businesses with a flexible hardware management scenario, allowing for multiple device models, operating systems, and configurations. This is especially crucial for growing enterprises, where the requirements keep changing. You can increase the number of devices you require as your team expands by taking up additional hardware subscriptions.
Additionally, it is simpler to perform device refreshes and upgrade your older equipment with newer ones, allowing you to stay updated at minimal costs. Once the current hardware subscription ends, you can return the old equipment and upgrade to brand-new devices when you renew your plan.
Benefit #5: Resource allocation
Maintaining your own devices year after year requires a significant amount of capital expenditure, and that is a sum of money that could be better spent on other initiatives. Moreover, the logistics of managing everything in-house are expensive and complicated. From warranties and repairs to replacements and device disposal, the cost can easily pile up.
However, the expenses are only one factor. You also have to consider other aspects involved in the entire endeavour. Imagine the time required from your IT team to equip and deploy each laptop onsite for 20 new recruits. Wouldn't these resources be better spent on projects beneficial to business growth?
By delegating these time-consuming tasks to a DaaS service provider, you ensure more predictable costs and fewer device-related problem-solving. Subsequently, you can redirect the time and money you save into your core business activities, generating further opportunities for your business to grow.
2.3. Comparing DaaS With The Leasing Model
As we have shared earlier, DaaS and the leasing model may appear similar at first glance. However, upon closer inspection, they have some clearly distinct differences. Let us perform an in-depth comparison so that you have a better understanding of the distinction between the two business models.
As we have shared earlier, DaaS and the leasing model may appear similar at first glance. However, upon closer inspection, they have some clearly distinct differences. Let us perform an in-depth comparison so that you have a better understanding of the distinction between the two business models.
1. Same predictable billing cycle, different price points
Both DaaS and device leasing offers you the ability to effectively manage your device expenditure with a predictable monthly billing cycle. But take a closer look at the monthly bill, and you will detect a stark difference in pricing. While renting a laptop for the short term may seem cost-effective, you will notice the cost piling up in a year or two.
In contrast, the price point for a hardware subscription model is generally lower. For example, at ITEZ.SG, the subscription price for our laptop reaches as low as S$9.90 per month. Even our top-end Apple products carry a lower price point than the rental prices of similar laptop models from conventional device rental services.
2. More comprehensive services and support capabilities
While both services offer additional services beyond providing you with the essential equipment you ordered, the support offered by traditional device rental companies is generally more limited. For example, these service providers typically do not provide loan devices when your rented hardware malfunctions and requires repair. Instead, users are forced to source for a replacement themselves.
Conversely, specific hardware subscription service providers – like ITEZ.SG – offer loan devices to replace your current equipment if it malfunctions during the subscription period (subject to availability). As such, you do not need to waste time and money sourcing a substitute device. We also offer additional support capabilities, from provisioning to management and maintenance of the hardware, allowing you to dedicate your resources to your business objectives rather than device management.
3. More flexible terms
DaaS provides more flexible terms compared to traditional leasing models. Conventional device rental companies may require users to pay a security deposit alongside the rental fee. However, this is a non-issue for users adopting a DaaS model, as they only have to pay a fixed monthly subscription rate.
Furthermore, some rental companies do not provide delivery services. Instead, they request the customer to collect their devices in person, meaning you have to take the time and effort to head down and collect your laptops before returning to the office with the equipment in tow. In contrast, DaaS service providers deliver the devices straight to your doorstep.
Learn More: Device As A Service Vs Rental: Why The Hardware Subscription Model Is Better
2.4. Taking A Walk Through The DaaS Lifecycle
DaaS is quickly emerging as the most economical and effective way to procure hardware. The increased demand for hardware subscription-based models contributed to the industry generating US$51.7 billion in 2021. And the market is estimated to continue growing, witnessing a compound annual growth rate of 42.6% from 2022 to 2031 and reaching US$1.8 trillion by 2031.
Organisations that stick with traditional models may be leaving opportunities on the table. As a result, they may not realise the full potential of driving innovation to reinvent their businesses. Remember, DaaS is not only about hardware leasing. But it also provides complete end-to-end lifecycle services for all your equipment. This ensures your staff has the ideal devices they require, allowing them to operate at peak performance at all times. Here is a snapshot of the DaaS lifecycle to give you an idea of how this shift happens.
1. Discover and plan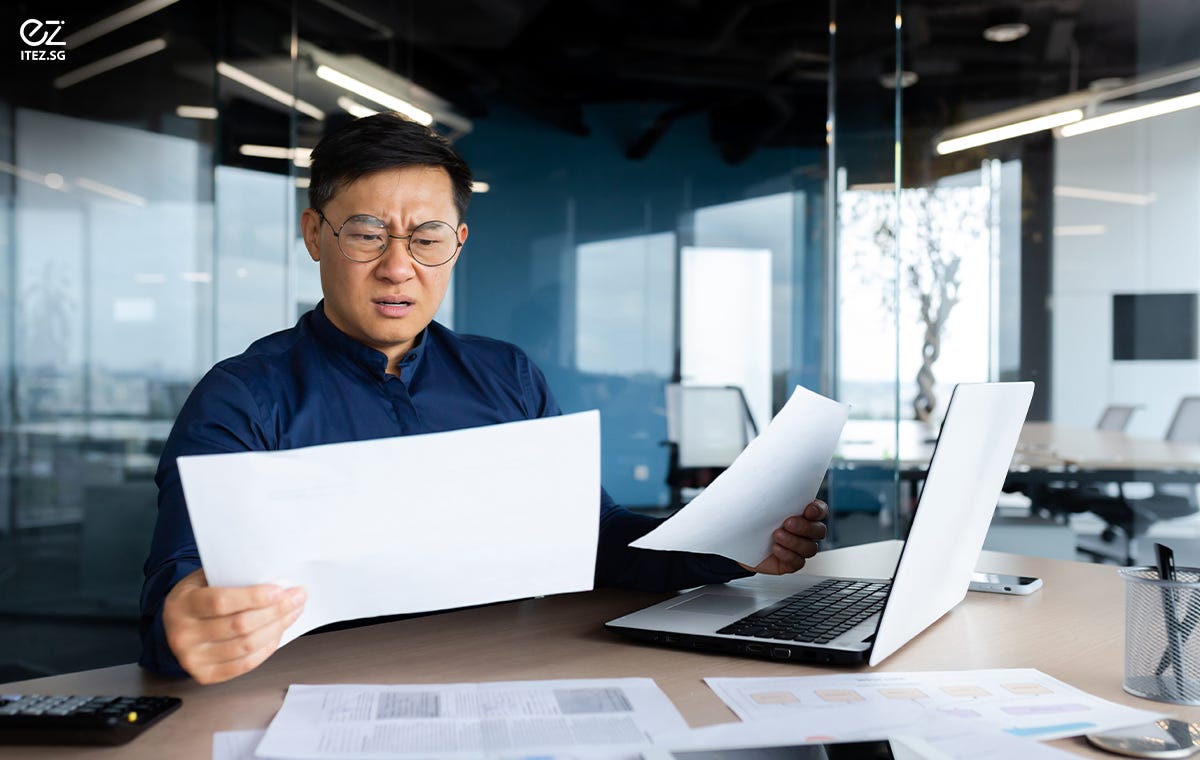 Before making any business decision, you must first have a plan. More so when it impacts the technological core of your organisation. At this initial phase, entrepreneurs should compare their current device environment, if any, to the one they require.
Subsequently, they should draft a checklist including the operating system they prefer, the applications they need, the device configurations required, and more. Once that is settled, they can begin researching the various hardware subscription providers and the services they include.
2. Procure the devices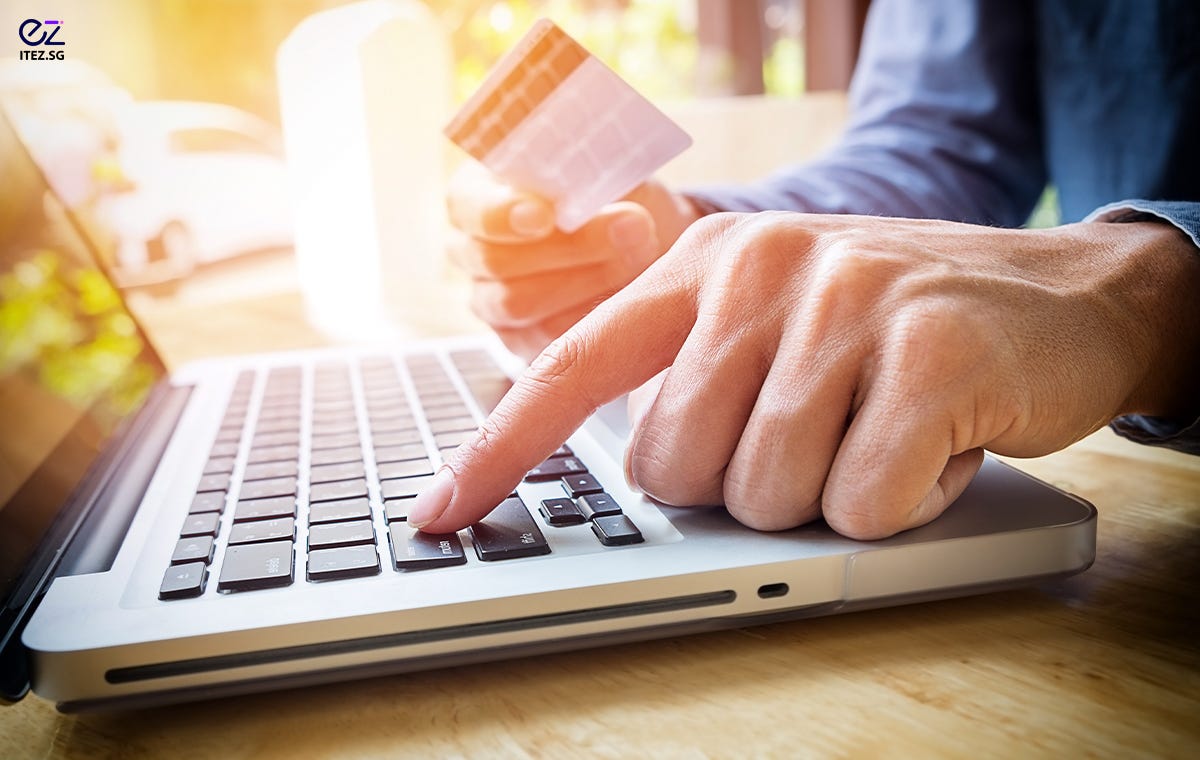 After organisations have shortlisted their ideal vendor, they should work with the service provider to identify the computing and digital devices and services that best suit their business needs. Once everything is sorted, they can place the order for the devices. Subsequently, the vendor will provide the equipment as specified by the customer, ensuring all devices are configured and users can access the necessary software, networks, and files they need to get started.
3. Deploying the devices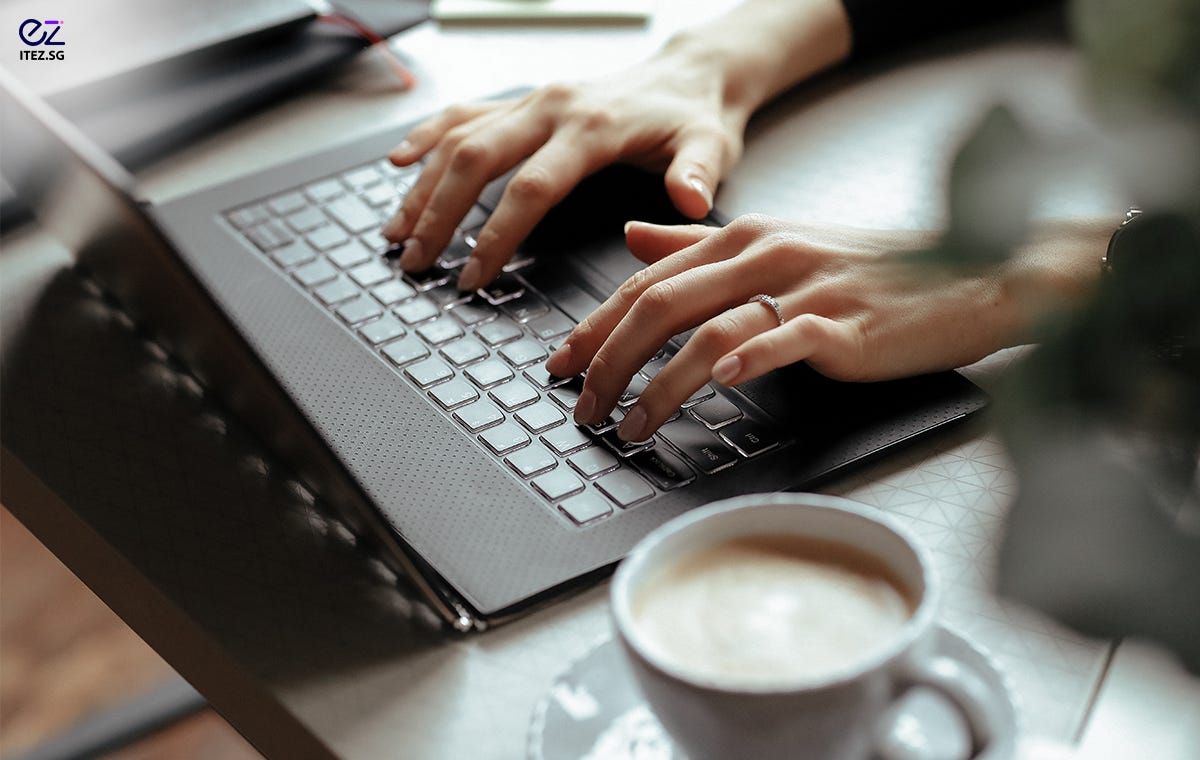 Once the devices have been configured, they are deployed to the target end-users so that they can begin working without delay. This help accelerates the employee onboarding process and makes new laptop requests seamless. If necessary, the laptops can be optimised and adjusted to ensure they are functioning at peak performance.
4. Device refreshing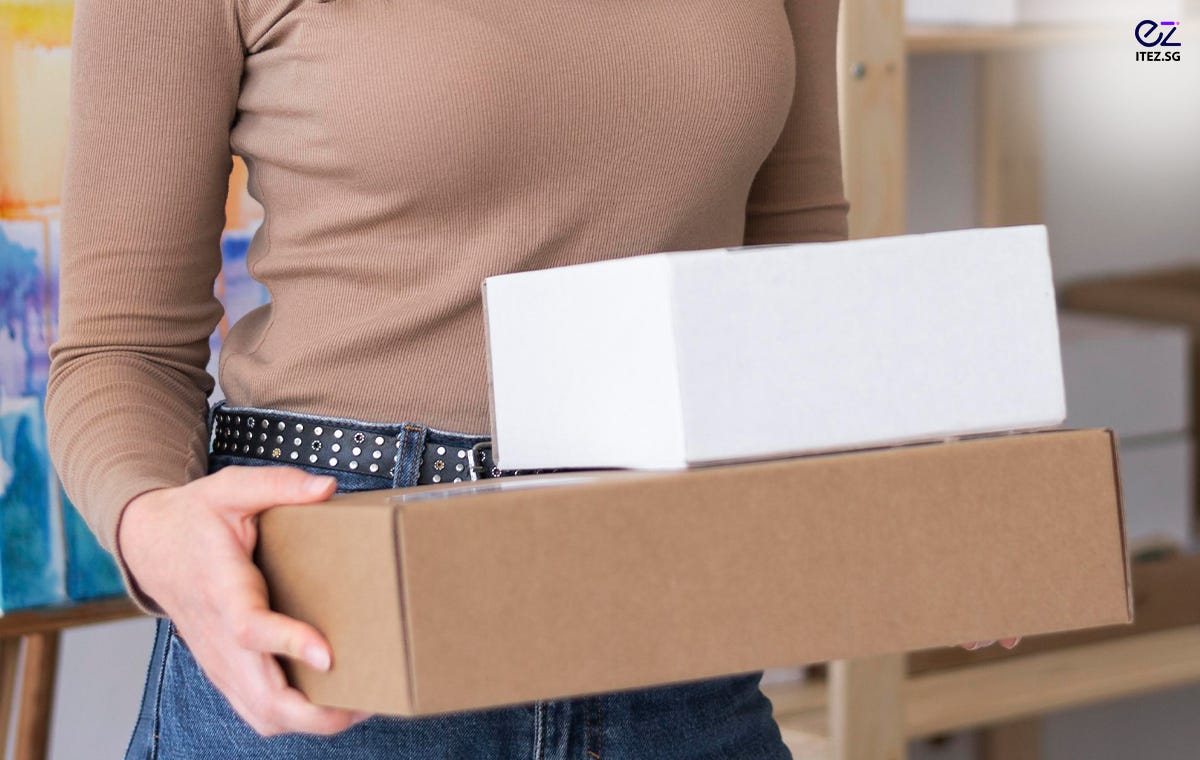 Source: https://www.youtube.com/watch?v=zx9nTAa3vTc
Keeping up with the constant advancement of technology is an expensive endeavour if entrepreneurs opt for the traditional method of buying devices. With DaaS, device refreshing is simplified at a fraction of the cost. Once the current contract ends, organisations can change the older device fleet for a newer one when the requirements demand it.
End-of-use devices are safely and securely removed, and the data within is wiped to prevent sensitive data from leaking. The workplace is then prepped for the start of a new hardware cycle. If laptop maintenance is required, users can return the device to the service provider for efficient repairs to ensure it continues functioning at peak performance.
2.5. Selecting The Right Service Provider For Your Business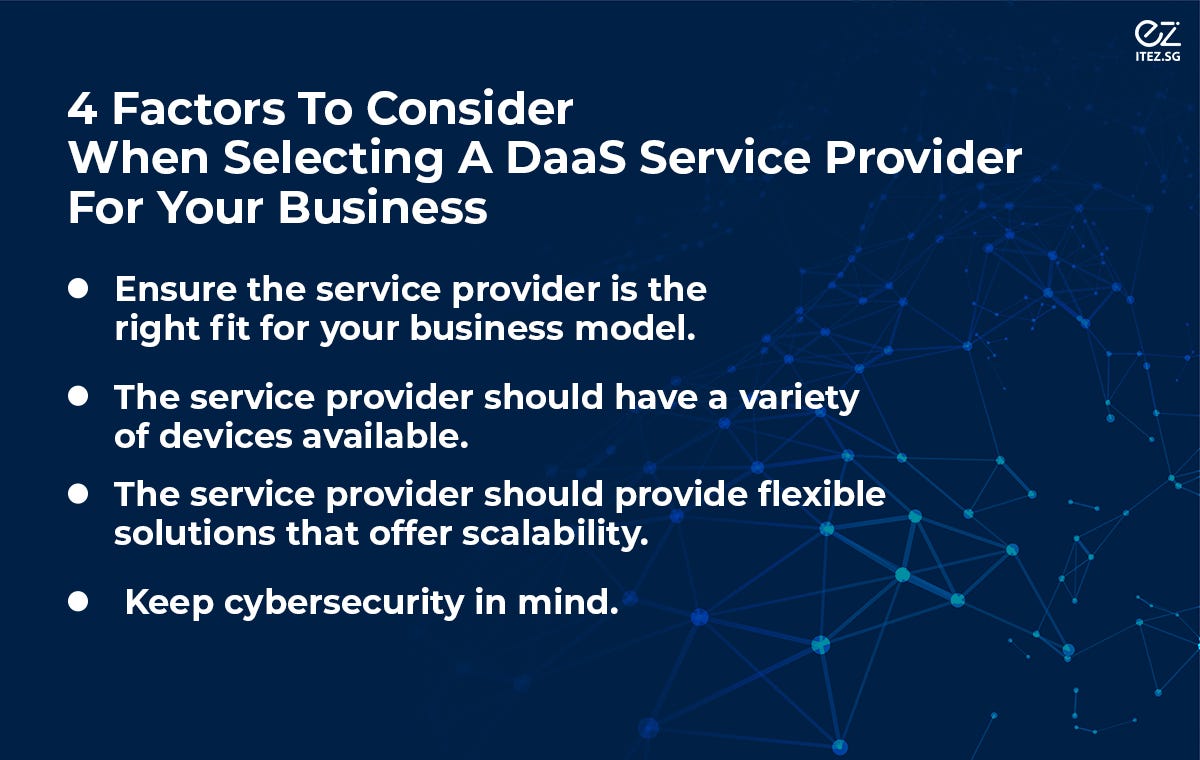 By now, you would probably have a clear idea of whether the DaaS model is ideal for your organisation. If the answer is yes, you are likely beginning your search for the most suitable service provider for your business. To help you make an informed decision, let us share the four factors you should consider when selecting a hardware subscription service provider.
Factor #1: Is the service provider the ideal fit?
DaaS is about more than just devices. It is also about the outcomes that a holistic, well-executed DaaS plan can provide for your organisation. A reliable service provider will seek to understand your business needs and what your team requires to deliver the devices that help you achieve the best business outcomes. So look for a service provider who understands your business and goals.
Factor #2: Does the service provider have a variety of devices available?
A dependable DaaS service provider should offer various devices and accessories that enable you to mix and match to suit each job function. Check with your shortlisted providers if they have a robust selection of powerful laptops, latest-generation smartphones, and reliable tablets available.
Additionally, ensure they offer support and service options to maintain continued high productivity. The focus should be on granting your employees unhampered access to the top-of-the-line technologies and resources they need to achieve your business goals. Hence, contributing to increased productivity and creativity levels, transforming your organisation into a more competitive business.
Factor #3: Does the service provider provide flexible solutions that offer scalability?
A proper DaaS strategy can drastically reduce the complexity of procuring digital devices for your organisation. Therefore, you should look for a hardware subscription service provider who can provide flexible solutions that offer easy scalability as your business expands and changes. When your business changes, you will require a provider with the expertise to understand how your device needs differ.
Some of the questions to ask your service provider include:
What devices are best suited to my business needs?

How often can I upgrade my devices?

How quickly can I obtain more devices to match the burgeoning staff in my team?

Is there a limit to the number of devices I can subscribe to?
Factor #4:Can the service provider guarantee that data leaks will not happen?
There has been a rise in cybercrime as technology continues to proliferate, with the global annual cost of cybercrime predicted to reach US$8 trillion in 2023. And it is not just the conglomerates being targeted; small and medium-sized enterprises are also vulnerable.
So keep cybersecurity in mind when selecting your ideal hardware subscription service provider. Too often, old laptops are returned to service providers still filled with sensitive data, as subscribers overlook wiping the information from their devices. Your chosen service provider should have a strict policy of scrubbing all data from devices upon their return to prevent sensitive information from leaking.
PART 3 – FAQS ABOUT DEVICE-AS-A-SERVICE
Despite the growing popularity of DaaS, many companies remain unfamiliar with this business model. While we hope our guide has gone some way to alleviate this issue, we also understand that you may have further questions about such services. As such, we have compiled a list of the common questions we have received about this business model.
Question #1: How does DaaS support remote working?
As the hybrid work model becomes a norm in Singapore, employers will understandably have to consider how to equip their workers with the necessary gadgets to ensure productivity is not impacted. DaaS can help facilitate a smooth transition to remote work when necessary, as both mobile devices and laptops can be delivered to employees' households without issue.
Moreover, the equipment is fully configured to ensure end-users can start work immediately. At ITEZ.SG, we even provide a loan device (subject to availability) if any of your current units malfunction during the subscription period. This saves you time and money sourcing for a replacement. As a result, you or your employees can remain productive, regardless of where you are working from - home or office.
Question #2: How can DaaS benefit my internal IT team?
Organisations incur significant opportunity costs when their internal IT teams are required to perform the routine work of managing and configuring end-user devices. By outsourcing the device management lifecycle to a DaaS provider, your internal IT team no longer needs to concern themselves with tasks like procurement, deployment, support, and maintenance. This frees them to focus on big-picture projects that drive business innovation.
Question #3: How does DaaS enable fast deployment and iterative testing cycles?
DaaS allows businesses to test out new technologies in low quantities with minimal costs before deciding to adopt them. As such, organisations need not worry about wasting significant time and money if the newly installed hardware is less than optimal for their business use.
With zero-touch deployment, which is a deployment strategy where the service provider delivers the devices fully configured and ready for use, your internal IT team need not be involved. When a new employee joins your team, you can order a new laptop and have it shipped to a location of your choice. From there, the employee can log in and begin working immediately.
Question #4: Why is DaaS a cost-effective solution to technological infrastructure?
DaaS is a cost-effective solution requiring no upfront capital investment. Moreover, the business model usually comes with lower monthly fees since the customer is not following a rent-to-own model. And as a hardware subscription service with a fixed monthly billing cycle, you can more accurately predict monthly cash flow, making it easier for you to budget and forecast projected growth within your company.
PART 4 – CONCLUSION
The variety of technology and the individual work requirements of each employee are increasing rapidly. As such, there is no longer a one-size-fits-all solution to choosing suitable devices for your business. These changes have made device procurement and management increasingly challenging for businesses.
If you are frustrated with the time and resources your organisation spends on technology upkeep and replacement, DaaS could be the ideal solution for you. It eliminates the burden of managing devices internally, allowing you to focus on what matters most to you – growing your business.
If you do not know where to begin, look no further than ITEZ.SG! Our corporate service solution offers a broad selection of devices, from affordable smartphones to tablets and laptops. If you have a specific device in mind, feel free to check with us, as we are not limited to the items listed on our website! Do not hesitate to contact us at corporate@itez.sg today, and we will be happy to clarify any questions you may have.